My vision is to provide you with the most skilled and educated therapists who will deliver consistent results in all treatments.
My team of caring, skilled professionals are dedicated to enhancing your sense of wellbeing with indulgent & truly effective treatments.
Beauty on Rose has a strong and active emphasis on education and training, all of our therapists are qualified Advanced Beauty Therapists, who regularly attends postgraduate training and seminars fortnightly. We ensure all training is focused on further developing the skills and knowledge of our staff so they can provide you with the most up to date and relevant skin care programs.
I am extremely proud of my team, who I believe are amongst the most gifted and knowledgeable therapists in the beauty industry.
Beauty On Rose partners with leading skincare and cosmeceutical companies and professionals. Our skin care range and treatments are all scientifically based and backed by formulations and techniques that have evolved over a period of 20+ years' experience.
– Catherine Egan, Owner
Sarah
Sarah
As daughter of salon-owner, Catherine, Sarah has stepped into the family business full-time and manages everything at Beauty on Rose.
Particularly focused on team development and enhancing the client experience, Sarah is central to the day-to-day running of the salon. Excited about the future of Beauty on Rose, Sarah's passion for beauty and exclusive customer care is always evident throughout the salon.
Sarah Jane
Sarah
Sarah Jane is a country girl at heart. However, her love for espresso now sees her settled in the big city and a talented member of the Beauty on Rose team. Always flawless, Sarah Jane's immaculate eyebrows and make-up often put the rest of us to shame! A creative soul, her attention to detail makes her the perfect facialist and makeup artist.
Berfin
Berfin
Berfin brings her boundless energy and love for the exotic to Beauty on Rose. Specialising in make-up, Berfin's passion is adding glamour to everyone's life, getting you ready for a wedding or that special occasion.
Aileen
Aileen
Originally from England, Aileen has paused her global travels to stay in Australia and join the Beauty on Rose team. Placid and easygoing by nature, Aileen loves to get to know customers on a one-to-one, ensuring every client feels pampered and special when they are in her care.
Clare
Clare
Clare is our longest standing employee, having been with us since we opened our doors! She has also spent time abroad teaching in Japan and is now studying nursing part-time. A conscientious and very attentive therapist, Clare's treatments are indulgence beyond compare.
Fiona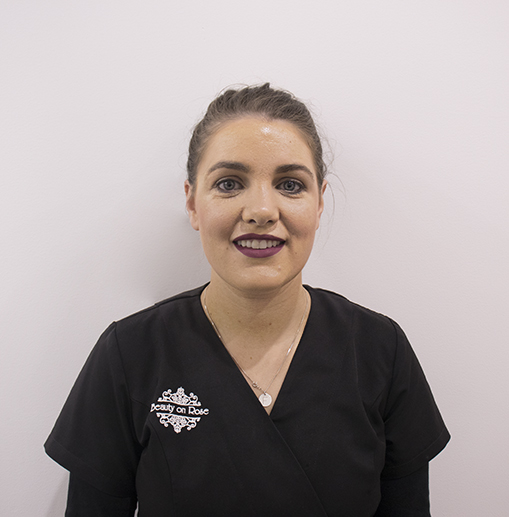 Fiona
Fiona is our Irish princess. She met her partner when travelling Australia and, luckily for Beauty on Rose, they have decided to stay permanently! Happily known as Princess Fiona. A passionate therapist, Fiona's speciality treatments are her signature facials and her immaculate shellac application.
Sandy
Sandy
Sandy was born and raised in the country. Now in the big city, her beauty treatments are proving incredibly popular. Her amicable, sympathetic nature makes her the perfect listener to your problems and she is everyone's best friend. Sandy's speciality is her luxurious relaxing massage, and she is also the person to see for anyone wanting to reshape their eyebrows.
Bryce
Bryce
Bryce brings his passion for dermal science and wealth of skin knowledge to Beauty on Rose. He has a passion for helping clients look and feel their best by offering results driven treatment plans.
Bryce also specialises in spa and wellness treatments that relax both body and soul. He takes great joy in seeing his clients leave the salon relaxed and happy with their results.
Yam
Yam
The jokester of the Beauty on Rose team, Yam's entertaining personality and sparkling humour is a favourite of all clients. Having worked at several leading salons across the globe, Yam's signature treatment is her hot stone massage from the Maldives, and her ability to buff your hands and feet to perfection!
Vita
Vita
Vita has worked in the Beauty industry for 30 years, this has awarded her with phenomenal skills and knowledge in all things skin and beauty. Vita is skilled in a various treatment types, specialising in advanced facials.
Vita has many regular clients and loves getting to know different people and helping them to feel and look the best they can.
Joanne
Joanne
Another longstanding member of the team, Joanne has been with Beauty on Rose since 2010. A busy mum at home, Joanne's kind and nurturing nature has led to her also becoming the 'mum' of the salon! A leading advocate of Sothys products and a big believer in their philosophies, Joanne's Sothys facials are renowned as a uniquely exquisite experience.
Georgia
Georgia
Georgia is the Beauty on Rose nail queen – her mani's & pedi's are first class and the rest of her beauty treatments are no different. Georgia enjoys helping her clients achieve their beauty goals and her fun, understanding and caring nature makes you feel like you are being treated by a long lost friend.
Taylah
Taylah
Taylah has been in the beauty industry since high school and started at Beauty on Rose after moving to Melbourne from the country. She loves performing all beauty treatments but her specialty is eyelash extensions.  
Taylah loves working in a big team  of people and finds it very rewarding making a difference to the way her clients feel.
Renee
Renee
Renee specialises in manicures,  pedicures, all things lash and brow tinting as well as massage. Renee's gentle demeanour will have you feeling completely relaxed and revived.
Renee takes great pride in being able to make others feel good and improving their confidence.
Delores
Delores
Delores is our phenomenal therapeutic massage therapist. With experience in relaxation, remedial and everything in between. Delores enjoys the being part of the process that allows clients to heal, restore and improve their daily well being.